Outlast traditional wood decks with a composite deck available in many varieties.
Composite Decking
We normally install Trex decking from Knecht Home Center in Rapid City, which is a great way to get a composite deck. Walk through their sample composite decking section, then select what you want. We would call and order what is needed and have it delivered the day before build day.
For an estimate on building or renovating your deck to a composite deck, contact us for an estimate.
Composite decking is a man-made building product that includes an approximate equal mix of recycled wood fibers and recycled plastic. Because composite decking products are so durable and impervious to rot, they have a much longer lifespan than wood decks.  When we install composite decks our frames are still wood underneath.  But parts where the elements are exposed are composite.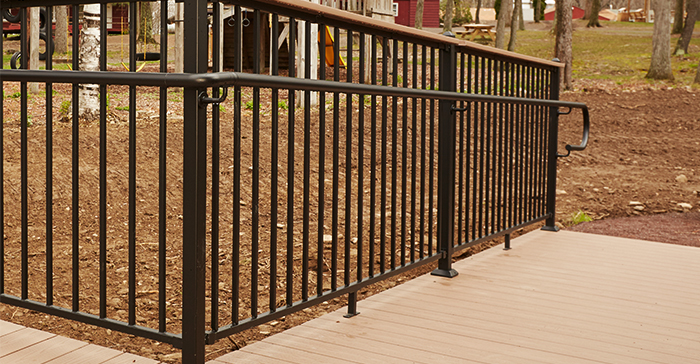 High Quality Fortress Railing
If I were to select the material I think has the best quality to go with a composite deck, I would lean toward a Fortress hand railing. It's a high-quality choice for patios, porches, and decks. It also has superior performance in strength and safety, which is a unique benefit to a pre-welded system.  It's virtually maintenance free system designed for use in an environment like the Black Hills. We can replace an existing deck handrail with this type of handrail also.
Color Choices – Black or White
Approximately $107 a linear foot installed.